I am at the pub, partly because I don't have wifi at home anymore (until Friday!) but also to celebrate the peaceful and successful conclusion of two straw wall building courses.
At the end of the first course, the house had nearly all of the ground floor walls built.  Amanda… (I love the below picture, I can just hear David Attenborough's voiceover) … demonstrates that this week, we got right up to the eaves.
Rae explains some principle of straw building…
And Sara practices whatever it was.
The upstairs is looking pretty crowded these days.
Ben, looking a bit like Jesus, explains about the ring beam he built. Helene the disciple looks either contemplative of the Good News, or possibly just distracted.
Sophie, Josh and Manuel listen to Ben explaining how we're going to raise, finish, and drop the ring beam on the extension.
We built a straw staircase to heft the sections of Ben's ring beam into place before fixing them together into one long box beam and lowering it onto the wall. Mammoth team effort. Totally successful.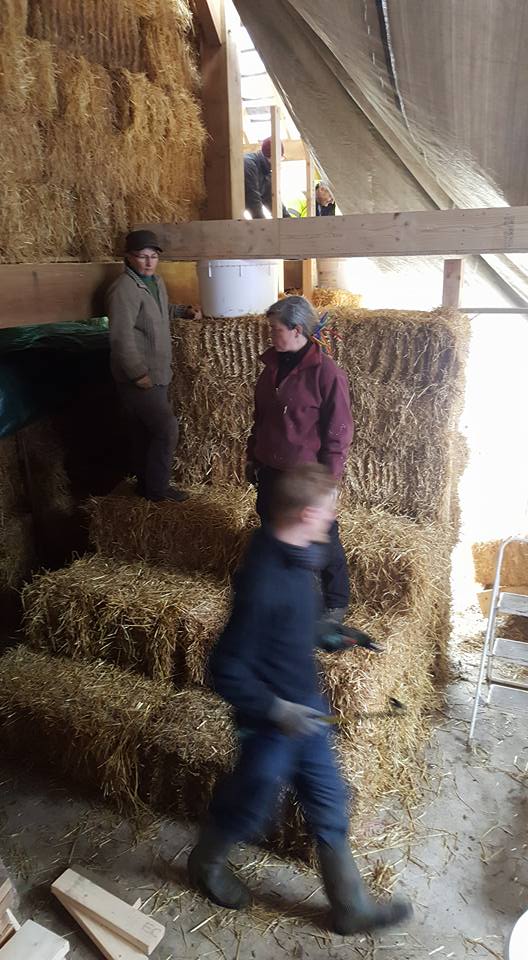 We got the ring beam stuffed, ready for capping, but we didn't have time to actually cap it. So guess what I'm doing this week?
I delivered cookies at regular intervals throughout the course because I believe it encourages quality building as well as general wellbeing.