By the end of the heat wave (which has ended now, for sure, it's raining hard) we had at least one little courgette coming along. Now we're going away for two weeks, so we will have to hope that the house-sitter and the volunteers will keep on top of them.
The heat and sun helped the flowers to come out with enthusiasm. They're amazing now.
Elodie has joined us from France, and is working alongside Maxime to make all the progress we hadn't been getting around to. It's amazing having them around. They work really hard and are good company, fun to talk to and interested in everything.
Elodie helped  by cutting the recessed niches out of the exterior wall on the porch and making shelves to mount into them.
The results (once rendered) will be an additional place to put candles during the evenings outdoors that I hope will be a feature of this autumn. Please can we have warmth this autumn? I promise to be a good girl…
Meanwhile, Anna and I went to the quarry to get another load of gravel.
Anna was entranced by the big machines, like a little boy with his trucks in the garden.
And having done my bit of butch for the day, I thought I'd go a bit domestic goddess and make a peach pie, as I had half a dozen ripe peaches.
Although it was still a bit too hot to light the oven, I thought it was worth it, so I opened all the windows and we just stayed outside after that.
Elmo was a fan of the pie. Elmo is always a fan of the pie.
I am also a fan of the pie.
We had a cooking fire on Friday night, with sausages and teriyaki steak. Maxime loves the sausages but Elodie is that rarest of creatures, a French vegetarian. So we fed her Quorn sausages, which she liked.
Then we had s'mores (or in some cases just toasted marshmallows) which went down very well.
Maxime had a lucky escape, nearly losing his in the fire.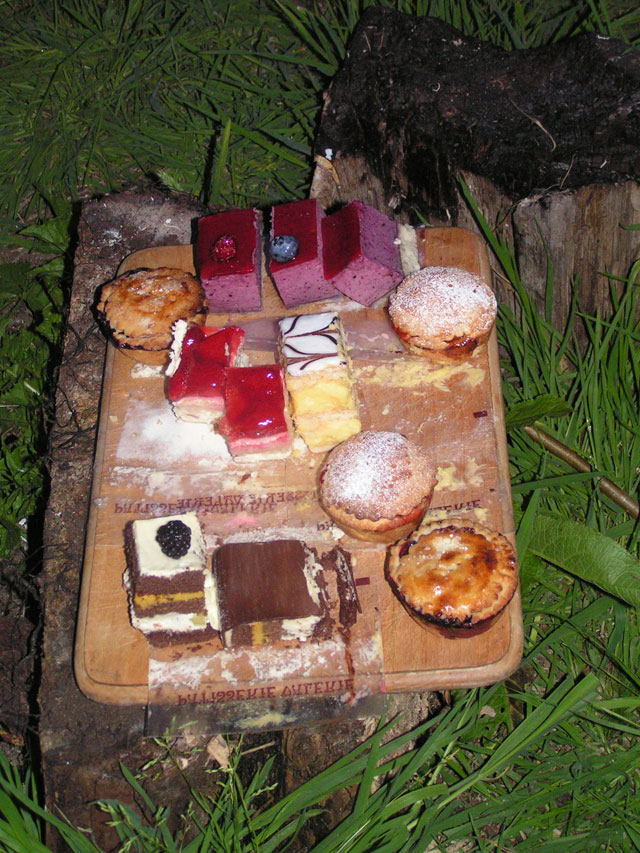 We also had a bit of a pastry-athon, Lynne and Lizzy both having brought lovely things, and we are still not done eating all the sweet loveliness around here because I went and made sticky toffee pudding tonight. We are leaving tomorrow morning and I think the household could eat for a week on the leftover empty calories in the fridge.
On a healthier note, we ate porridge for breakfast the next day, with summer berries.
I tried out Elmo's new grinding wheel, sharpened the axe to a razor edge.
And (SURPRISE!) Anna did the plumbing so we now have running water right up to the house. Outside the house, mind. Inside will have to wait a good while, but it's REALLY nice not to have to go to the sheds. I hope it will make Lynne-the-house-sitter's stay more pleasant.